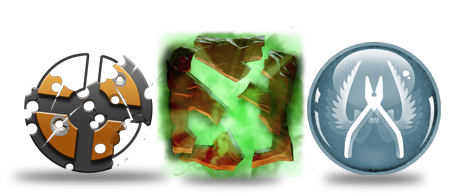 For all available badges, see Category:Badges.
Once a set of cards has been collected it can be crafted into a game badge. Badges are tied to user accounts and are shown on users' profiles. Crafting game badges earns the user marketable items like emoticons, profile backgrounds, and coupons. Badges can be leveled up by collecting the set again and re-crafting the badge thus earning more items.
Special badges not related to trading cards include the following:
Community Badges
Edit
Special Badges
Edit
Community Translator Badges
Edit
Game Collector Badges
Edit
Years of Service Badges
Edit
Pre-Trading Card Sales Badges
Edit
Holiday Sale 2011
Edit
Summer Sale 2012
Edit
Holiday Sale 2012
Edit
Event Badges
Edit
The Great Steam Treasure Hunt
Edit
Potato Fools Day ARG
Edit
Steam Summer Camp
Edit
Steam ARG 2015
Edit
Steam Awards
Edit
Steam Awards 2017
Edit
Steam Hardware Beta Badges
Edit
Ad blocker interference detected!
Wikia is a free-to-use site that makes money from advertising. We have a modified experience for viewers using ad blockers

Wikia is not accessible if you've made further modifications. Remove the custom ad blocker rule(s) and the page will load as expected.